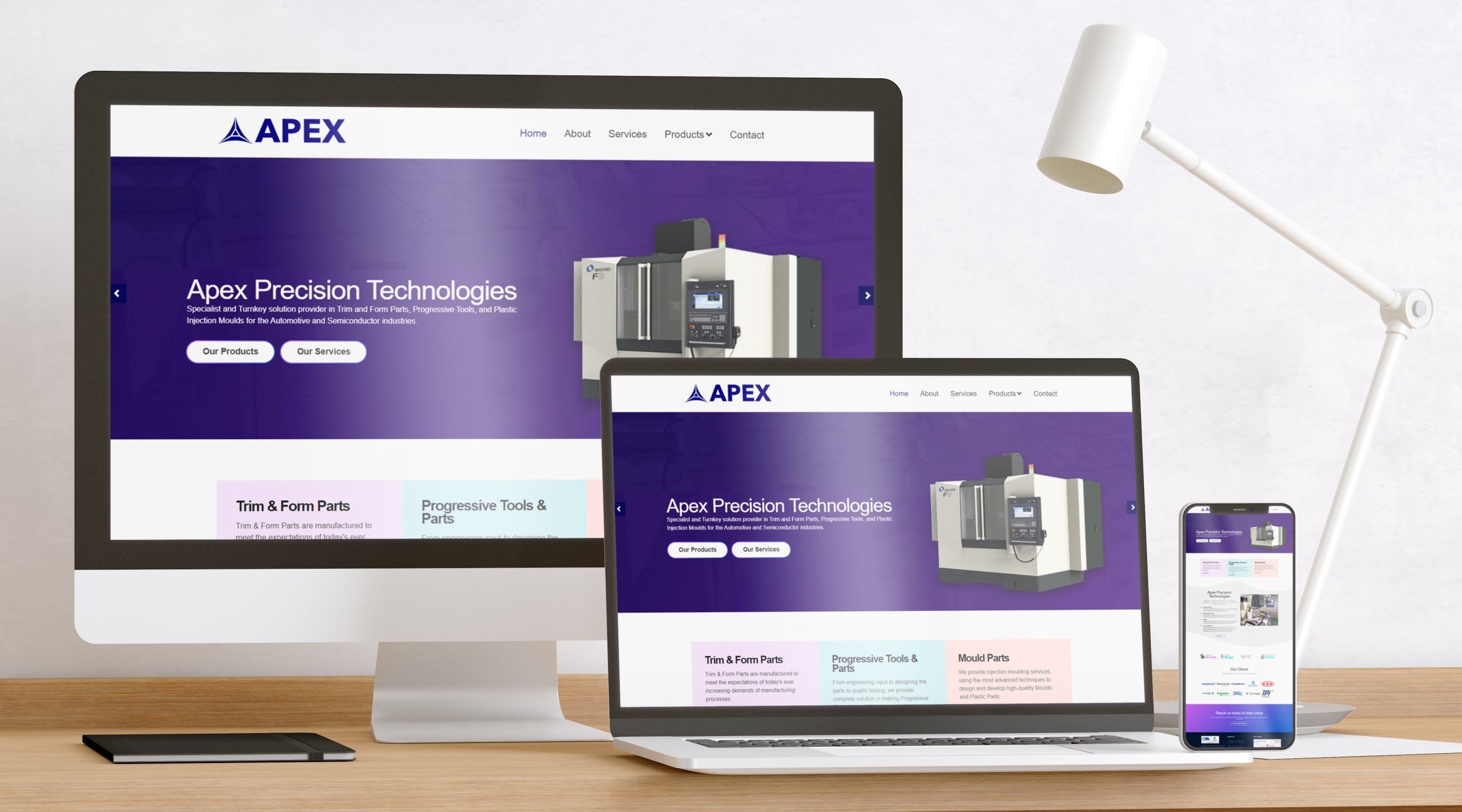 About Client
Apex Precision Technologies is a leading manufacturer and supplier of precision plastic components and sub-assemblies employing injection molding for agriculture, textile, electrical and electronics, packaging, building, etc.,
Objective
Build an attractive and responsive website to showcase their infrastructure, services, and various industries they cater to and establish a digital presence in a sustained manner with user-friendly interface and easier navigation.
Project Overview
Apex Precision Technologies has grown to become one of the leading turnkey solution providers for progressive tools and plastic molds and needed a visually appealing reflecting its commitment to innovation, quality, and sustainability.
Join over +600 happy clients!
Create

a

website

to

impress

techies

with

your

expertise!
Collaboration
Industry: Precision plastic components
Location: Chennai, India
Service: Injection molding, Tool development, New product development
Deliverables
Web hosting and maintenance
Email services
Website copy-writing and content
brochure design, and company presentation
On Page Optimization and Business Listing
Client Requirements
Responsive website design
Simple navigation
Photographs and videos
Adequate visual elements to highlight their infrastructure and service capabilities
Check

below

the

most

advanced

features
Creative Process
Our internal design and development teams worked in collaboration for the Apex Precision Technologies website development project. A detailed briefing session to help our team understand client specifications kick-started the creative process.
Research
A thorough research on industries using injection molding and Apex Precision Technologies' competitors helped us understand the current market trends, quality standards, USPs, and technological developments in the industry.
Wireframing
We developed wireframes, which represent the website's structure and layout based on our extensive research and gained insights into the functionality and flow of the website.
Layout Design
A modern, visually appealing website layout was finalized, in line with the company's brand elements and values, and attracted a larger audience segment.
Typography
Good typography is essential to ensure readability and navigation hence the website font styles, sizes, and colors were carefully selected to enhance the design aesthetics.
Website Content
Our content writers developed engaging and SEO-optimized website content for Apex Precision Technologies to rank well in SERPs to attract visitors.
Landing Pages
Our content writers developed engaging and SEO-optimized website content for Apex Precision Technologies to rank well in SERPs to attract visitors.
Outcome
The website surpassed client expectations and has received positive reviews from stakeholders, enabling Apex Precision Technologies as a leading precision components manufacturer and supplier.
Our team worked closely with Apex Precision Technologies to construct a responsive design, a user-friendly and functional website showcasing their infrastructure and service capabilities, demonstrating the importance of design and development team collaboration to ensure the successful outcome of a website development project.
Visual elements and images were effectively used to construct an engaging and appealing website, enabling users to explore their infrastructure and service capabilities, reflecting their quality standards.
The website is optimized to rank well in SERPs, helping our clients to build their online reputation and increase brand visibility to potential customers.
Contact us
We are proud to have helped Apex Precision Tech enhance their brand visibility with an appealing and engaging website to showcase their expertise and distinguish themselves from their competitors.