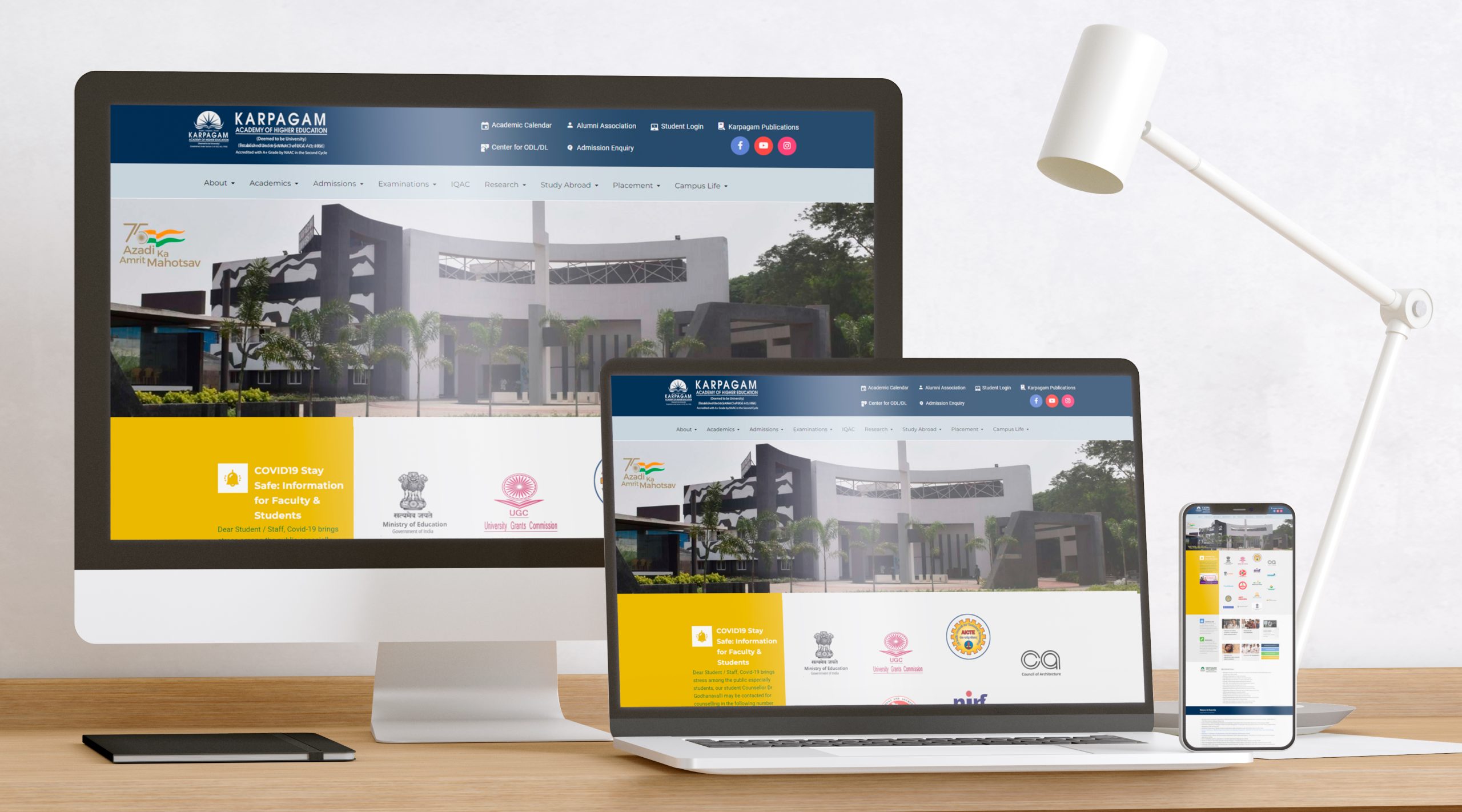 About Client
Karpagam Academy of Higher Education is one of the best Universities in Coimbatore, Tamilnadu that strive to provide a top-notch education to create innovative & proficient professionals in the country.
Objective
Build an appealing & responsive website to showcase their course programs, facilities, etc with a user-friendly interface & responsive website that is easily accessible to students, parents & education consultants.
Project Overview
Karpagam Institutions have been our reputed customer for more than a decade. Bound to our commitment since 2009, they wanted a visually appealing & fully functional website for one of their colleges, KAHE.
Join over +600 happy clients!
Create

a

website

that

pulls

potential

viewers

to

your

brand!
Collaboration
Industry: Educational Institute
Website: https://kahedu.edu.in/
Location: Coimbatore, India
Service: Academic Institution providing UG, PG, & Ph.D. Courses
Deliverables
Website copywriting and content
Email Service
Web Hosting
SSL certificate
Website Maintenance
Client Requirements
Responsive website design
Simple navigation
Professional Design
Adequate visual elements to highlight their academic excellence & their course programs
Check

below

the

most

advanced

features
Creative Process
Our internal design and development teams worked in collaboration for the KAHE website development project with detailed briefing sessions to understand client requirements and objectives.
Research
A thorough research on the education sector and competitors of KAHE helped us understand the current market trends, USPs, and technological developments in the industry.
Wireframing
Based on the research findings, our team created wireframes for the website for a visual representation of the website's structure and layout to get a clear understanding of the website's functionality and flow.
Layout Design
The next step was about finalizing the website's layout design, ensuring it was modern, visually appealing, and in line with the college's brand image and values.
Typography
The website font styles, sizes, and colors were carefully selected to ensure readability and enhance the design aesthetics.
Website Content
Our content writers developed unique, engaging, and plagiarism-free website content for Karpagam Academy of Higher Education which is highly optimized to rank well in SERPs.
Landing Pages
The final landing pages of the website were designed to be user-friendly and provide an intuitive navigation experience, showcasing KAHE's world-class amenities, placement records, recognitions, & course programs.
Outcome
The website surpassed client expectations, enabling them to showcase their infrastructure and services in an engaging and informative manner. The website has received positive reviews from parents, students & education consultants, enabling KAHE as the Best College in Coimbatore, Tamil Nadu.
Our team worked closely with KAHE to construct a responsive design, a user-friendly and functional website showcasing their infrastructure, courses & admission, demonstrating the importance of design and development team collaboration to ensure the successful outcome of a website development project.
Visual elements and images were effectively used to construct an engaging and appealing website, enabling users to explore their courses, facilities, placement records, and college recognitions.
The website is optimized to rank well in SERPs, helping our clients to build their online reputation and increase brand visibility to potential target audience.
Contact us
We are proud and honored to have helped our most esteemed customer, Karpagam Academy of Higher Education (KAHE) to enhance their brand visibility with an appealing and engaging website to showcase their academic excellence and stand out from their competitors.