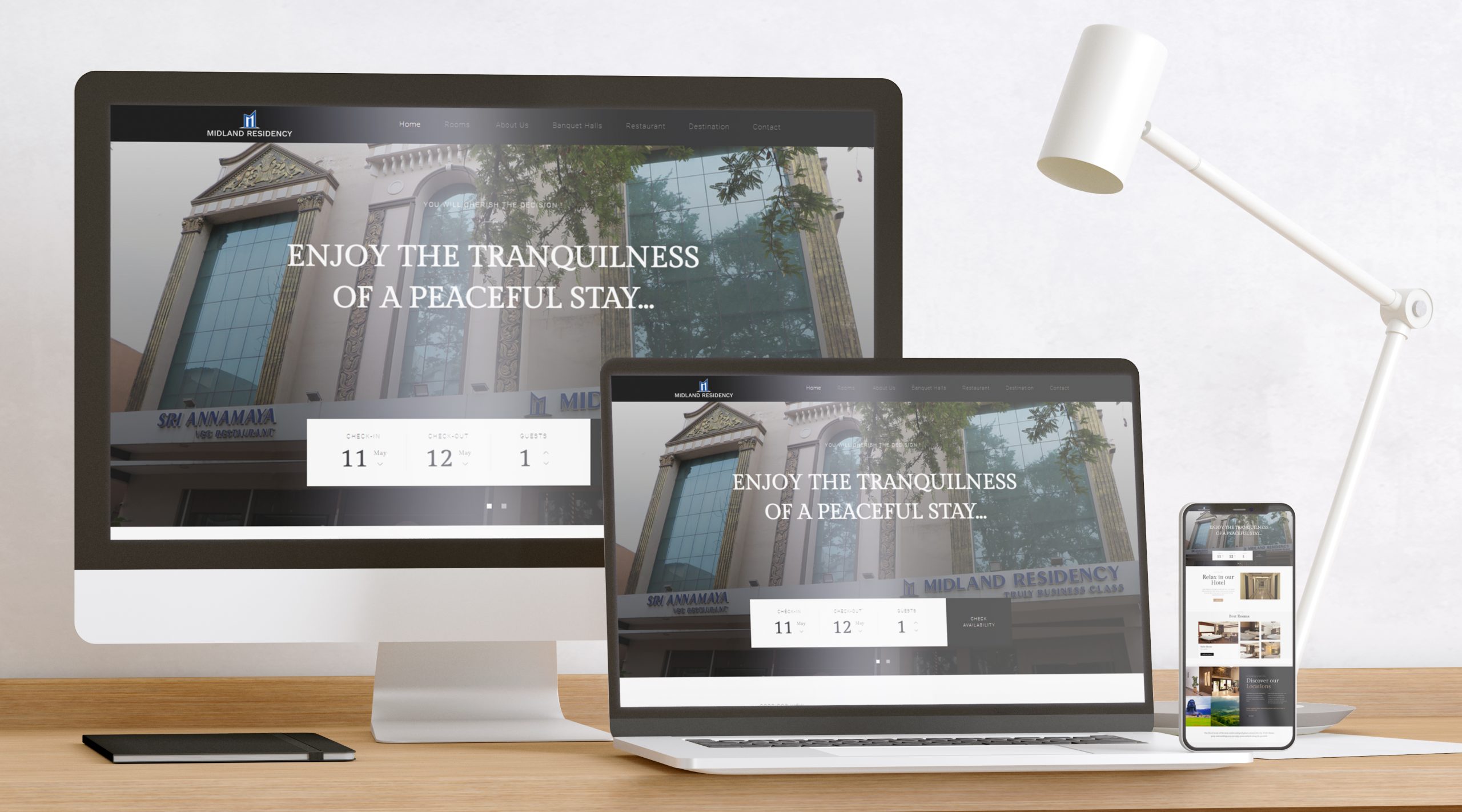 About Client
Midland Residency is a budget-class business hotel based in Coimbatore, India that offers well-maintained, best customer services and staying experience at an affordable fare for business occasions.
Objective
Build an attractive and responsive website to showcase Midland Residency's attributes and facilitate online room-booking services with an user-friendly interface and navigation.
Project Overview
Midland Residency is one of the fastest growing business class hotels in Coimbatore, India with 24-hour travel services, check-out time and front desk, free wifi facilities, and more.
Join over +600 happy clients!
Design

a

website

that

pulls

businessmen

to

your

residency!
Deliverables
Website content writing and maintenance
Domain registration
Web hosting, SSL
Client Requirements
Modern, responsive, and user-friendly design
Effectively showcase Midland Residency's attributes
Increase online room bookings and overall brand image
Clean and visually appealing design
A successful outcome of the website development project.
Check

below

the

most

advanced

features
Creative Process
The creative process for the project was a coordinated effort between our design and development teams. A detailed briefing session to understand client requirements and objectives kick-started the process.
Research
Meticulous research about the hospitality industry and Midland Residency's competitors helped us understand the current market trends, the latest technologies used, its USPs.
Wireframing
Our Research findings enabled us to develop wireframes for the website to gain a clear understanding of the website's functionality and user flow and helped our developers visualize the layout and structure of the website.
Layout Design
We worked closely with the client to ensure that the website layout design was aligned with the company's brand image, and values and visually appealing to the target audience.
Typography
It's essential to ensure the typography used on the website is legible, easy to read, and align with the overall design, hence the font sizes, styles, and colors were chosen to create a harmonious and visually pleasing design.
Website Content
Our content writers developed engaging, plagiarism-free, and SEO-optimised website content for Midland Residency to rank well in SERPs and facilitate online room-booking services with an user-friendly interface and navigation.
Landing Pages
The website's user-friendly landing pages were designed to provide an intuitive navigation experience. The online booking was designed to effectively showcase the features and attributes of the business-class hotel.
Outcome
The Midland Residency's website project was completed successfully, receiving positive feedback from customers and the industry and enabled Midland Residency to improve its online visibility and overall brand image.
The research and wire framing phases were critical in ensuring that the website was designed to meet the specific requirements and objectives of the client.
The use of modern design elements and typography has helped to improve the overall user experience and appeal of the website.
The website has effectively showcased the Midland Residency's attributes and has helped to increase online visibility and improve the overall brand image of the hotel.
Contact us
Repute is proud to have helped Midland Residency in creating a website which was visually appealing, responsive and according to their expectations that increased their online visibility and customers.