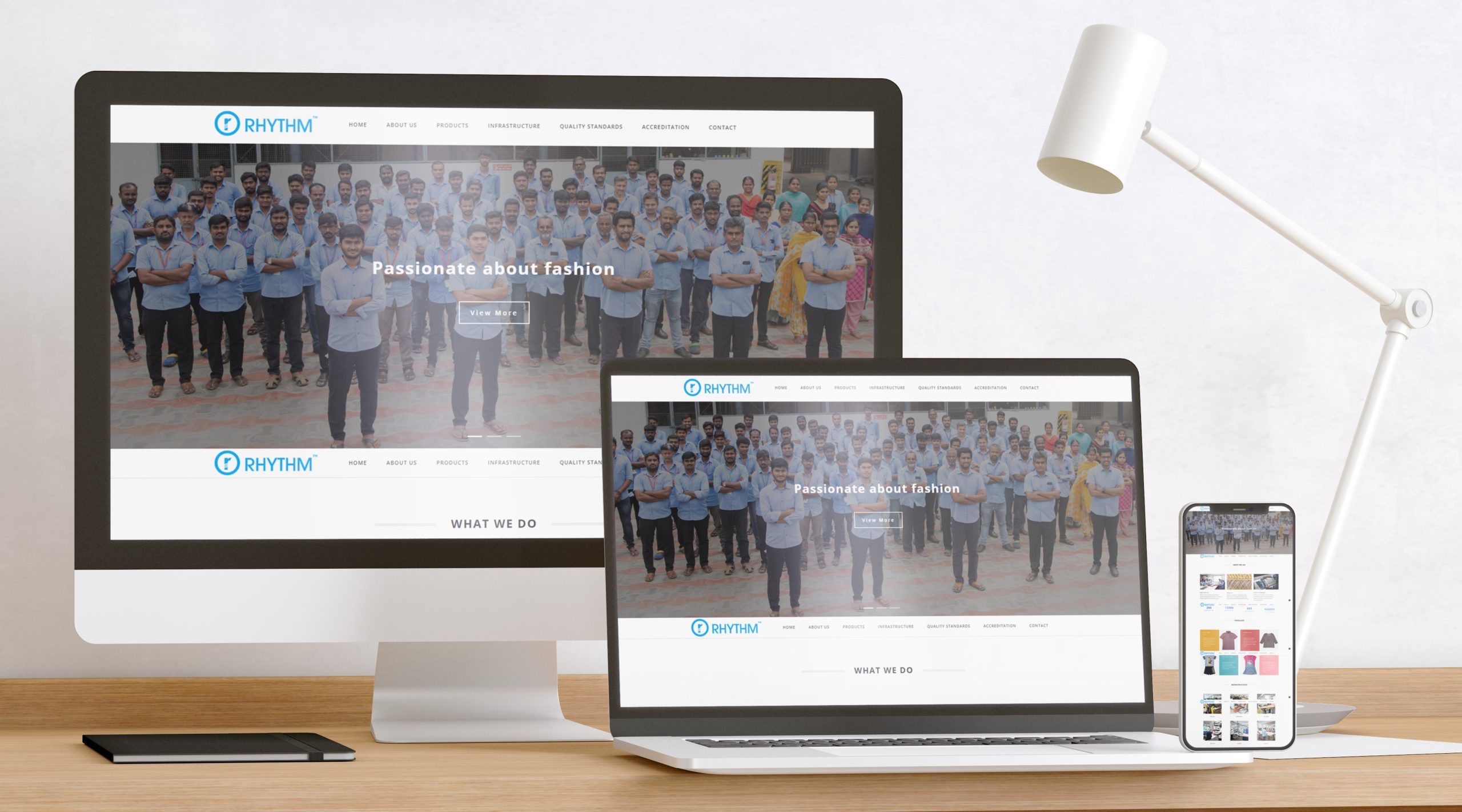 About Client
Rhythm Knitting is a specialized garment manufacturer in Tirupur, India with a clientele across Europe, the UK and South Africa.
Project Goals
We have helped Rhythm Knitting establish a digital presence and gain visibility worldwide to boost export sales.
Project Overview
Rhythm Knitting needed a visually appealing and fully functional website to attract overseas buyers.
Join over +600 happy clients!
Create

a

website

that

earns

loyal

customers

to

your

business!
Deliverables
Domain registration
Web hosting with SSL
Website copywriting and content management
Email services
Website Maintenance
Client Requirements
Responsive website design
Simple navigation
Adequate visual elements to highlight their infrastructure, product ranges and CSR activities
Check

below

the

most

advanced

features
Creative Process
Our internal design and development team worked together to deliver design solutions as per client requirements.
Research
Understanding the garment industry, market trends, client competitors and USPs, and technological developments.
Wireframing
We developed wireframes to establish the website's functionality and flow.
Layout Design
Modern and visually appealing website design in line with the company's image and values.
Typography
The website font styles, sizes, and colors were carefully selected to ensure readability and enhance the design aesthetics.
Website Content
Our content writers developed engaging and SEO optimised website content for Rhythm Knit India to rank well in SERPs to attract leads.
Landing Pages
We developed user-friendly landing pages to provide an intuitive navigation experience to users showcasing the client's wide-ranging garments.
Outcome
The website effectively showcases the client's infrastructure and products in an engaging and informative manner to attract overseas buyers.
We developed a responsive design, a user-friendly and functional website showcasing the client's infrastructure and garments
Team collaboration was crucial to ensure a successful project outcome
Effective use of visual elements and images to enhance website aesthetics and highlight eco-friendly practices
The website is optimized to rank well in SERPs, enhancing online reputation and brand visibility to potential buyers worldwide
Contact us
We are proud to have helped Rhythm Knit India Exports enhance their brand visibility with an appealing and engaging website to showcase their different types of garments and stand out with a distinguished presence from their competitors.